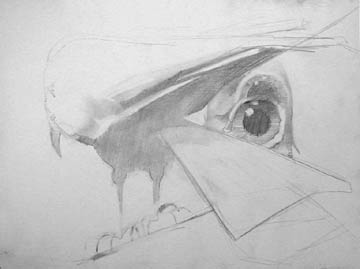 Drawing "Anticipate", 1/10/01
November
November 2nd, Group Email Message. Subject: Completely Tubeless
Twas an early morning, this morning. Had a CT scan at 7:30. After shooting through the oversized donut hole a few times, my radiologists came out and said "the tumor in you chest is greatly reduced, and the lymphoma on your pancreas is gone!" I became thrilled. Then he went on to say, "We're going to pull the tube." I got scared.
He was certain that there was nothing to block the biliary drainage, so he pulled the tube part way back, injected some dye that the x-ray showed flowing through to the duodnum. Then he pulled the tube out (not as painful as I had been envisioning it for the last two months).
I should be feeling like a new man, but there's been so many complications that I want proof that this is all working. I'll be ready to celebrate in a couple days when I'll have proof. (Ask me in person and I'll explain how properly working bile is proved).
So good news. No longer that swelling bag strapped to my leg. No more "I have to go to the bathroom.... number 3". No more tangled tubes or Jamie tube excuses ("I would go sky-diving with you except I have this tube problem"). And if all goes well, in a couple days you'll get an email from me celebrating the fact that I'm a new man.......
November 6th, Group Email Message. Subject: New Man Indeed
Well, it looks like I'm making it without the mechanical aids of tubes and pumps and bags. It's really an incredible feeling to be 100% human. I haven't been this thrilled with my condition since I was released from the hospital...
Now there's only a few more major hurdles; restaging, 3 more chemos, radiation, and all the smaller hurdles that come with the territory, like this horrendous batch of mouth sores that just appeared...
November 11th, Group Email Message. Subject: Chemo 4
is successfully under my belt. The doc gave some good news that things were going well and that I may be able to beat this all in just two more chemos. However, four more treatments ( a total of eight which would take me into Janurary and Feburary) seems a little more likely... I'm rooting hard for the two more and done program. I'm ready to start growing some hair back... My eyebrows are even starting to fall out now, very slowly...
This last chemo I mentioned to my doc how well I was doing and asked if I could stop worrying about my immune system since my blood counts were staying pretty normal. He said, "we really want your counts to drop, so we'll increase your dosage. Gulp..... So I am now on more chemo than ever before.
Had another revelation. I was crossing the street when the light changed, not if my favor. Previously, I would simply have had to continue my snails pace across the crosswalk while angry automobilist would rev their engines or see how dangerously they could careen past my hobbling path. Today it was different. The light changed, and I ran! Yes. I can run again.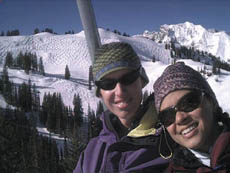 Christine and I on the first of many Alta-therapy Sessions
November 28th, Group Email Message. Subject: More good news
Well, I had a scary week, last week, in which a recurring symptom suggested the cancer was back. I told very few people as I hoped it would quickly go away. Then a day turned into a few, then a week. I had started accepting the possibility of more chemos and "special procedures". It made me rethink my life AGAIN. My Dr. was stumped, but content to sit back and watch for worsening symptoms. They never came. After a week of wondering what was going on, the symptom went away. Bye, bye.
I'm coming to realize that the hardest part of all this is not the wrenching pain, needle pricks, or surprise attack nausea (all which are mostly over, for now), it's this unknowing stage of wondering what comes next. Do I get my life back, or lose a turn and go back to start? Whenever I forget that I'm in the process of recovering and feel as though I'm back to myself, I catch a glimpse of myself in the mirror and am startled by the pale, hairless beast staring back...
There aren't many mirrors on the mountain at Alta Ski Lifts Co. so I've been hanging out there, desperately attempting to rebuild my strength and lose my timidity on the now icy slopes. It's a spiritual place for me, and I'm experiencing it through new eyes and a new, very weak body. It's good. I've got to spend my time somehow.
And now the good news. I had a CT scan this morning. The doc says things are on schedule and I may get away with only two more chemos. There's still a small mass in my chest, but it's probably benign scar tissue.
Yes. I cant wait to have my hair back.