plein aire painting of the Green River, August 2000
August 20, Journal Entry (Backpacking trip in the Uintas)
It's a beautiful morning here in the High Uinta Mountains. Our camp is flanked with tall rock peaks, golden meadows of soft grasses and numerous small, alpine lakes. Sunlight streaks through the pines, lighting up various boulders strewn across the spongy lawn. The yellowing Hasta and the deliciously cool temperatures are the only indication that fall is coming. And soon, I hope, for I feel the fresh cool breezes will bring with them better health for me.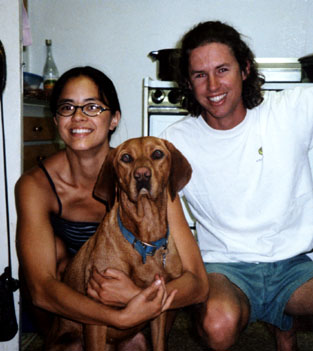 Check out the veins standing out of my forehead and puffy cheeks! That's from superior vena cava sydnrome, which means the tumor was smooshihg off my veins, arteries and heart. I had no idea.
August 23, Journal Entry
Wednesday morning and I feel horrible already. It's the first day of school and I'm wondering how I can make it up to school without wrecking the car or passing out while walking to the bus stop or throwing up in the bus. These are my thoughts now days, how to do the simple things.
August 24, Journal Entry
My eyes turned yellow today. Chris noticed it while we were at the vet's. Dr. Lewis saw me right away, convinced me I have hepatitis, and took a bunch of blood tests. So nice to get some high paced service. And I'm happy to finally have a symptom that says, " ey, I'm screwed up and I need help."
August 25, Journal Entry
My skin turned yellow today. As I lay on the dark purple sheets my yellowness is accentuated. You can only really tell that I'm yellow where I'm not very tan; my butt and groin, feet, etc. I really don't want to be walking around with people looking at me, noticing how yellow I am.
August 28, Journal Entry
Damn. Missed my second day of school already. Slept right through it. The nap sure felt good though. I'm hosed. First thing this morning I found out my tests for hepatitis came back all negative. I'm glad not to have hepatitis, but it sucks to have no idea what's wrong with me once again.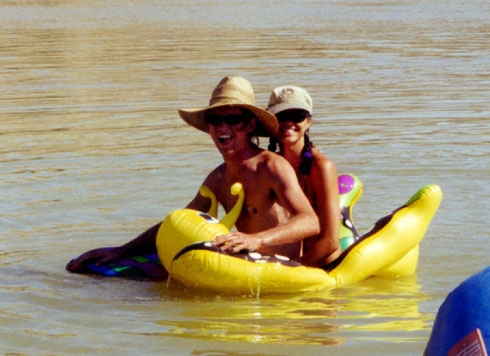 We had to squeeze in one more river trip before we got serious about seeing doctors.